UW-Platteville Foundation sets fundraising record for fourth consecutive year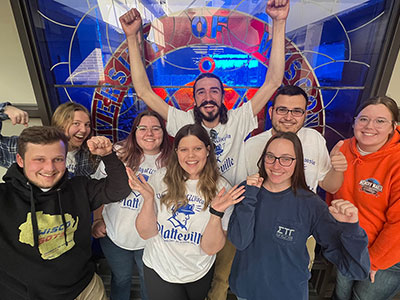 Written by Alison Parkins on Fri, 06/30/2023 - 09:20
For the fourth consecutive year, the University of Wisconsin-Platteville Foundation celebrates a record year of donations, raising $8.7 million during the 2023 fiscal year, which ended June 30.
"This banner year for fundraising is a testament to our history of excellence and the unwavering support of our alumni, friends, faculty, and staff and their belief in our university's mission," said UW-Platteville Chancellor Dr. Tammy Evetovich. "This support is nothing short of transformative, and it guarantees that, together, we can continue to uphold our university's traditions of excellence and access."
The UW-Platteville Foundation received more than 7,500 gifts during the fiscal year. This year's fundraising total is a $1.1 million increase over last year's record.
"On behalf of the UW-Platteville Foundation Board of Directors, I want to salute Josh Boots and his team," said Joe Denk, UW-Platteville Foundation board chair. "Their extraordinary dedication and commitment have once again led to record results. The $8.7 million fundraising total is beyond impressive and comes at a critical and challenging time for the university. The funds will help support scholarships for students, help faculty and staff in classrooms, and provide assistance to other worthwhile campus programs."
"The kindness of UW-Platteville alumni, friends, and corporate partners has been inspiring," added Josh Boots, assistant vice chancellor for Development and Alumni Engagement. "Our base of supporters continues to increase their impact that directly benefits the current and future students here at UW-Platteville. Their generosity is more important than ever, and we could not do it without them."
For more information about the UW-Platteville Foundation, visit
uwplatt.edu/alumni-friends/foundation.
© Pentera, Inc. Planned giving content. All rights reserved.
Disclaimer